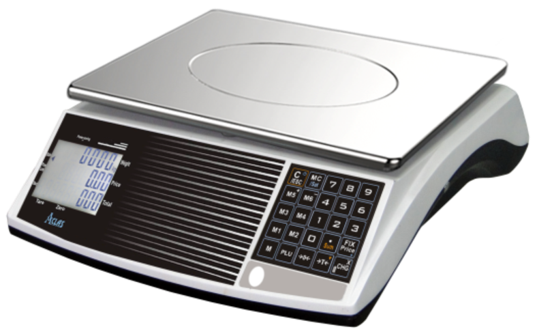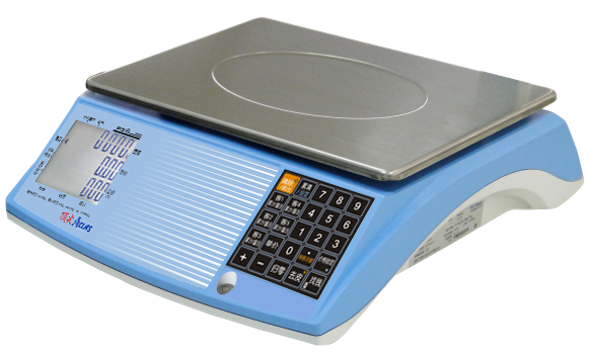 Aclas(CLASS A) PS6C
PRICE COMPUTING SCALE
Unique Functions
Unique super power-saving design in the world, only 3 D alkaline batteries can drive the scale for 6 months (8 hours each day), 30 times each hour, 10 seconds each time).
Insect-proof design (patent), able to prevent the defect caused by bugs entering into the machine, reducing 80% failure.
Unique multi-customers accumulating keys, able to accumulate for five customers at the same time. One piece of scale could equal five scales.
Patent vibration-detected –circuit design. Most of the time in super power-saving stand-by status(21uA), will enter into working status by any loading(backlight) degree 1-7, default 1 degree, 5.5mA).
Lower cost: 3D type dry batteries can drive the scale for 6 months. The life of traditional lead batteries is only 1 year and needs professional people to replace them. It is expensive and often breaks down.
Patent hot keypad, not only can be printed to put PLU sheet underneath but also can be used as unit price default keys, improving sale efficiency.
Super 3-line 8 characters LCD able to display weight, unit price, and total price on the same screen.
The most feature-rich in redisplay the transaction process which includes unit price, unit weight, total price, price unit, and serial number clearer than other scales in the market.
Well-designed combined function keys, convenient and easy to operate.
Daily total turnover check function.
The type with communication port, able to connect with POS or ECR, Optional RS232 dongle to realize wireless communication.
Excellent Functions
High-sensitive light-touch keyboard, carbon film conductive keyboard plate, super long usage life.
Auto-power saving design will enter into the stand-by status automatically without any operation (user-defined 4~200 seconds at will, 200 seconds won't enter into auto-power saving status) only consuming 21uA., able to be awake by any loading or operation due to the inner mechanism.
Support backlight shift function by pressing the backlight key for 1.5 seconds, able to save electric power by turning off the backlight in the bright and extending the service life of the dry battery.
CHG function assists users to change notes accuracy.
8 memory unit-lock key, convenient to operate when busy.
Store 70 PLU.
Support price-lock function, suitable to sell weighing commodity of same rice.
Price units (500g) or kilogram (kg) can be set, suitable for the traditional market.
Two optional ranges: 15kg / 30kg